Colour. It's one of the most exciting parts of a painting project, but with so many options, where should you start? Lucky for you, we know a thing or two about paint colours, and we've got an expert guide on how to find your perfect colour.
Valspar has a number of ways to start your paint colour search. One way to start is by choosing a colour family. Maybe you know you want a blue bedroom or a yellow kitchen, but haven't picked a specific shade yet – that's where the Explore Colours page can help.
Keep in mind any "fixed" items in the room, such as carpet, curtains and light fixtures. Make sure the colours you choose will complement these features – and doing so will give your space a cohesive look.
It's good to know the visual effects that certain colours might have:
Lighter colours give small rooms the appearance of spaciousness, while dark colours visually "shrink" large rooms.
Bright, warm colours – such as reds, oranges and yellows – bring light and warmth to rooms without much natural light. On the flip side, cool colours like blues and greens can tone down bright rooms.
Monochromatic colour schemes – where two or more colours of varying lightness and darkness are chosen from the same colour family – offer balance and a soothing experience for the eyes.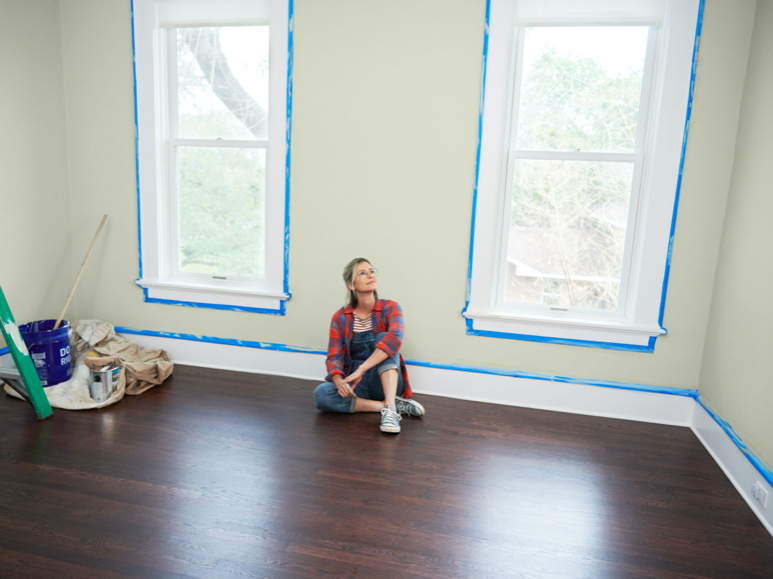 Your neighborhood can be a great place to look for ideas. Pay extra attention to houses that are similar to yours. You'll see what others have done with similar architecture styles or building materials.
Your front door and/or garage door can be great opportunities to make a colour statement.
Try to use colour to emphasize architectural details.